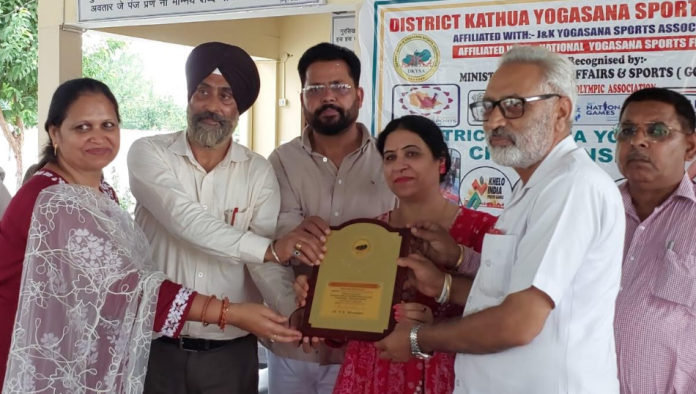 Kathua, July 31
The Fourth Yogasana championship in Collaboration with sports council of Jammu and Kashmir organized the championship in Sant Nirankari bhawan in kathua where students from the different schools participated in large numbers and performed yoga asans. 0
The very motto of this championship is to inculcate the interest of the school students in Yoga which is considered to be very much important in ones life. It keeps students healthy and away from various drugs.
The chief Guest on this function was Dr.Rachna Bhagat,GDC Kathua, guest of honour District Planning officer, Kamaljeet Singh ( Special guest on behalf of CEO Kathua) , Manuj kesar, chairman Press club kathua,Guest of honour,B. R. Nirankari Sanyojak and S.P. Nirankari, Khetriya Sanchalak and EX ZEO Kathua Manohar Kumar were present in the function. Chief guest Dr.Rachna in her presidential address, said that Yoga is the need of hour.She congratulated the organizers for massive participation of the students from the different schools which is really a good step. She advised the students to make Yoga a part of their life as it is very much important for all round development of the personality.
The Judge on the occasion was National Yoga Athlete Sunita verma who leave no stone unturned in order to spread the Yoga in every nook and corner by enlightened the Students as well as society.
She said that in the ensuing championship there will be massive participation of the students.
She also give a message to the society that all should perform Yoga and made it a part of the life which would really a boon for us.
Students of the age group who performed : Cadet (5-9) years, 9-14 ( Sub Junior), 14-18 ( Junior) , 18 and above ( Senior).
In the Championship, Students performed Traditional yoga, Single artistic Yoga, Pair artistic Yoga,Group
rhythmic Yoga.
Judges in the championship were Ashok Kumar, Angrez Singh, Monika Thakur, Sneha Sharma, Geeta parihar and Sunita verma
In the end certificate were distributed among the
participants.