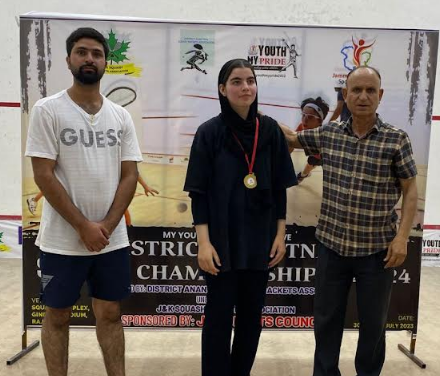 Srinagar, July 31
Sports and games apart from helping youth to not to fall prey to drugs and other social evils to be physically fit, also helps to inculcate discipline among the youth, besides building comeraderie.
This was stated by Abdul Rashid Ahanger, former ace National Hockey Player and Sports Promoter on the closing ceremony of District Anantnag Squash Championship at Squash Complex, Multi Purpose Sports Centre, here.
The Championship was organized by Anantnag District Squash Rackets Association under 'My Youth My Pride' initiative of Jammu and Kashmir Sports Council.
Various Schools from District Anantnag participated in Under-15, Under-17 and Under-19 boys and girls categories.
While Mr Ahanger was the chief guest on the occasion, Mir Aaqib and Liyakat Hussain were the guests of honour.
Speaking on the occasion, Mr Ahanger, a former National Hockey player from Anantnag district, who has the reputation of shaping the careers of a good number of youth in the sports field, congratulated all the participants, especially the medal winners for taking part in such a wonderful sport.
He also advised the organizers to hold one Summer Coaching (Squash) Camp at Squash Complex for advanced skills of this sport.
Later, the chief guest along with the other dignitaries, distributed medals and trophies among the winners and runners-up players.
The Championship was sponsored by Jammu & Kashmir Sports Council. Final Results:
U-15 boys: 1. Winner, Mohammad Yousha 2. Runners-up, Sahil Gulzar 3. Third Place, Tawfeeq Nazir
U-15 girls: 1. Winner, Tabinda Amin 2. Runners-up, Fatima Riyaz 3. Third Place, Saboora Javed
U-17 boys: 1. Winner, Hamid Ayoub 2. Runners-up, Danish Syed 3. Third Place, Muzamil Fayaz
U-17 girls: 1. Winner, Alima Rafiq 2. Runners-up, Anjum Abbas 3. Third Place: Zehra Showkat U-19 boys: 1. Winner, Anif Manzoor 2. Runners-up, Sahil Sabzar 3. Third Place, Saqib Showkat
U-19 girls: 1. Winner, Tabia Amin, 2. Runners-up, Suzain Naseer 3. Third Place, Saba Qayoom.