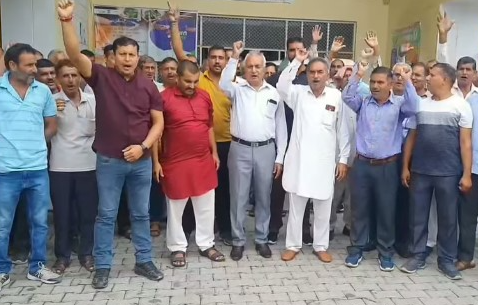 Jammu: A group of local residents of Samba's border village Burj Sheru near Supwal met the deputy commissioner Samba on Tuesday and demanded that their cremation ground land must not be claimed by the temple authorities near it as they have been cremating their deceased in that place from some centuries. "We have been conducting funerals since 400 years in the cremation ground at village Burj Sheru near the temple. "Our issue is very old but from 2-3 years the priests of nearby Hari Mandir have begin claiming the cremation ground land. "The priests are not only encroaching our cremation land but they have also involved a property dealer and they also tried to fence the land.
"We came here to meet DC sir and have got assurance from him that our cremation ground will not be encroached by anyone and we will try our best to retain it", said Mr Som, a villager. "We have a very holy place at Purmandal known as 'Gupt Ganga' where our ancestors used to perform last rites of their deceased people.
"There is a water well near it where our ancestors used to drink water and stay. There is a Sarai (Cave) near it, which the Purmandal temple priests tried to destroy few days back. "They tried to grad it after which with the help of local authorities we registered FIR against the priest.
"Today, again the people are trying to grab our cremation ground. We met DC and SSP sir and they apprised us that no illegal structures can be raised on that spot until the authorities don't came up with a decision", another villager said.